Ghee – clarified butter.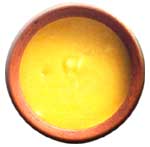 Since I started making Ghee from butter, all meals I cook taste delicious, my 12 year old daughter eats better, and all my friends ask me about the secret ingredient which makes even a simple dish taste fantastic. I use it for preparing Ayurvedic remedies as well because it works as a vehicle to deliver an herb to wherever it is needed.  Along with essential oils, Ghee makes an excellent moisturizing and nourishing cream for my skin.
Let's look at what has been known about that fantastic product for thousands of years:
Ayurveda considers clarified butter (ghee), to be the best lubricant you can ingest. Unlike Western nutritonists, Ayurveda belives that in case of dry skin or cracking joints, one should take Ghee not water. According to Vedic knowledge water has drying quality while butter lubricates.
Ghee increases digestive fire and improves absorption and assimilation. Even the fiery Pitta dosha benefits from its sunny energy. It nourishes ojas (the subtle essence of all the body tissues), and prana (the life force), strengthens the brain and nervous system, and improves memory. It lubricates the connective tissue and makes the body more flexible. In small doses, Ghee is good for everyone.
Ghee carries the medicinal properties of herbs to all seven elemental tissues of the body.
To MAKE  GHEE
You need 1 pound of unsalted organic butter.
Put the butter in a heavy, medium sized pan. Turn on the heat to medium until butter melts. Turn down the heat. Do not cover the pot. The butter will foam and sputter for a while and then begin to quiet down.
In 12 – 15 minutes, it will begin to smell like popcorn and turn a lovely golden color. Whitish curds will begin to form on the bottom of the pot. The time you need depends on the kind of oven, pot, and the amount of butter. I like to cook Ghee on a very low fire so it takes me one or two hours. When the whitish curds turn a light tan color, the ghee (butter) is ready. Take it off the heat immediately, for the ghee burns easily.
When it starts to cool strain the ghee into a storage jar, discard the curds left on the bottom. It will last up to two months without refrigeration.
Ghee is used everywhere you would use vegetable oil or butter : for cooking vegetables, grains, cereals.
Ghee is also an important ingredient in herbal medicines helping the herbs go deep into the tissues.
Ghee is a real gift for your skin. It can be used as a lotion along with essential oils suitable for your skin type. It is very good for your hands and delicate skin around the eyes.

Check great Sandalwood Rose Age Defying Eye Butter from our partners.
*This site contains affiliate links to products. We may receive a commission for purchases made through these links. However we recommend you only high quality products that we personally believe in.
TODAY'S TIP: For the general benefit of vision, Ghee is used in the treatment of Netra Basti when you keep it in your eyes for a certain period of time. Eating ghee for food, you also use it for beauty, because you cleanse yourself from the inside.